South Dakota Whitetail Hunts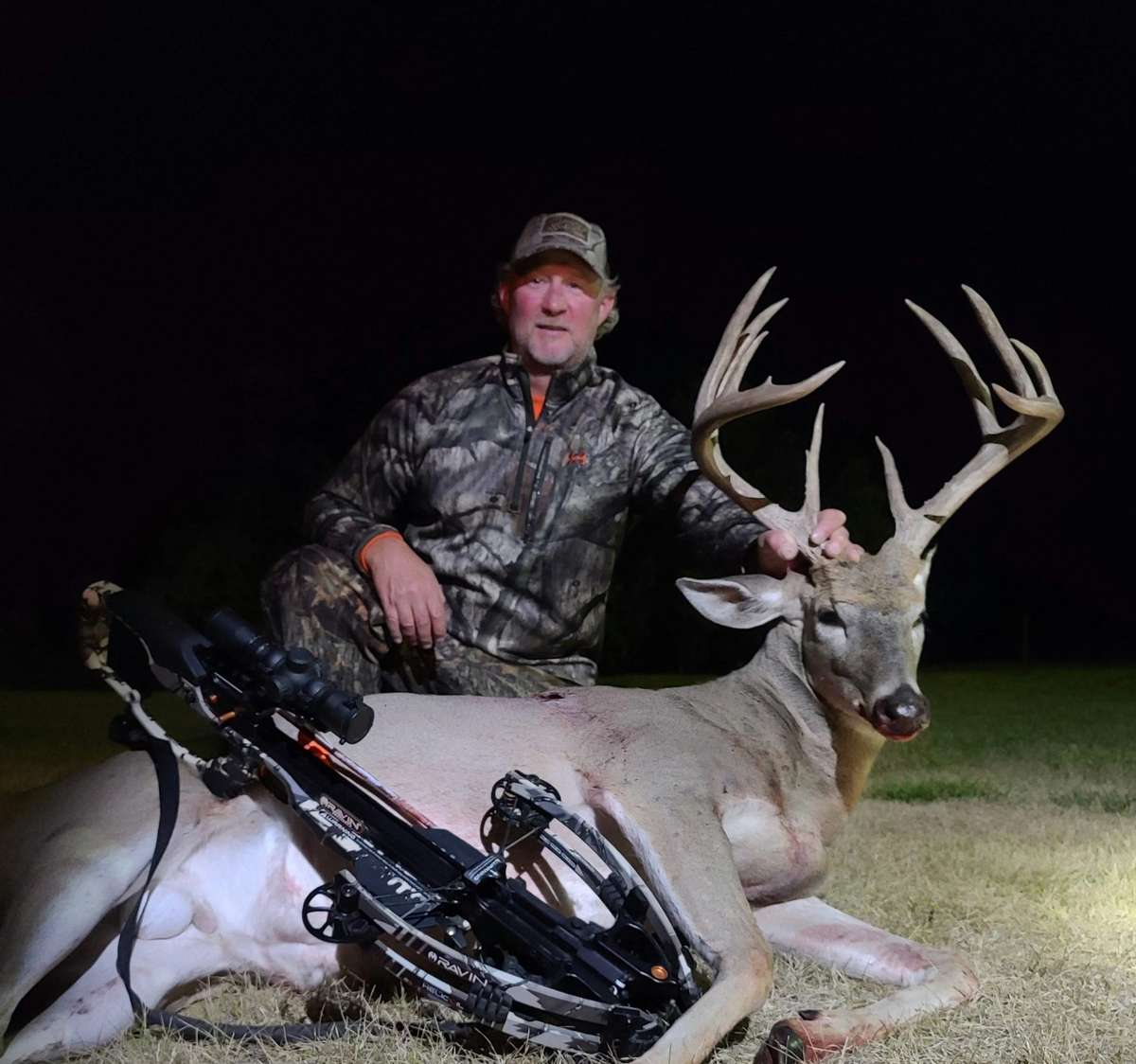 South Dakota is known to produce quality whitetails, due to its vast farmlands, rugged creek bottoms and covered tree draws. Come see what South Dakota has to offer on our ARCHERY ONLY whitetail hunts. All deer hunts take place on private ground consisting of covered creek bottoms, pastures and CRP.
South Dakota Archery Deer Tags are "over the counter" but must be applied for by April 1 of the corresponding year for license to be valid on both public and private ground. If bought after April 1, license is only valid on Private Ground.
All hunts are 5 days, 6 nights, fully guided hunts including meals and lodging at our South Dakota Camp.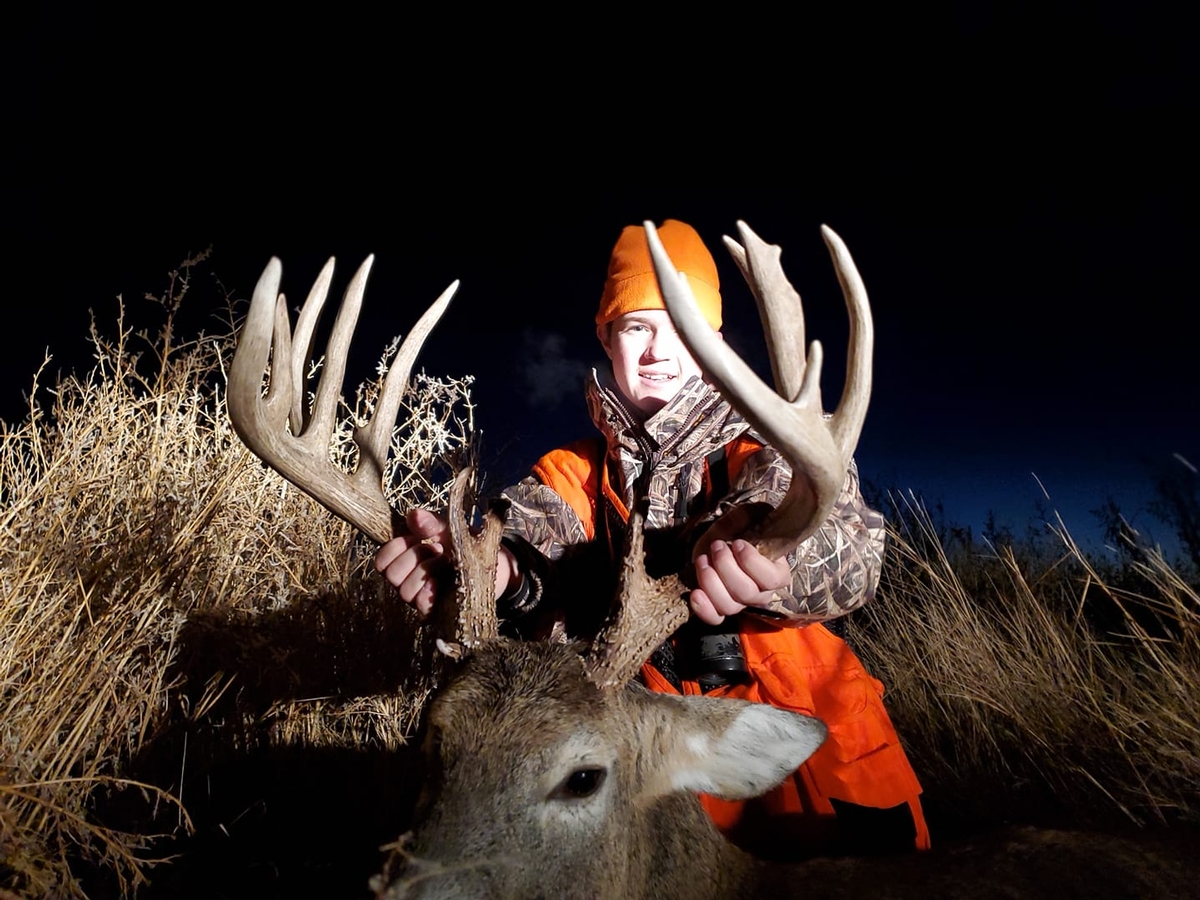 Archery Whitetail Hunting in South Dakota
When hunting in South Dakota only the use of a Compound Bow is allowed to hunt whitetail in South Dakota. You can expect to be put in either a Ground Blind or a Tree stand. Our land is well managed to help keep the area very low-stress which gives an opportunity rate of 100% to harvest a trophy buck. The fields you will be hunting are exclusive to archery hunts only.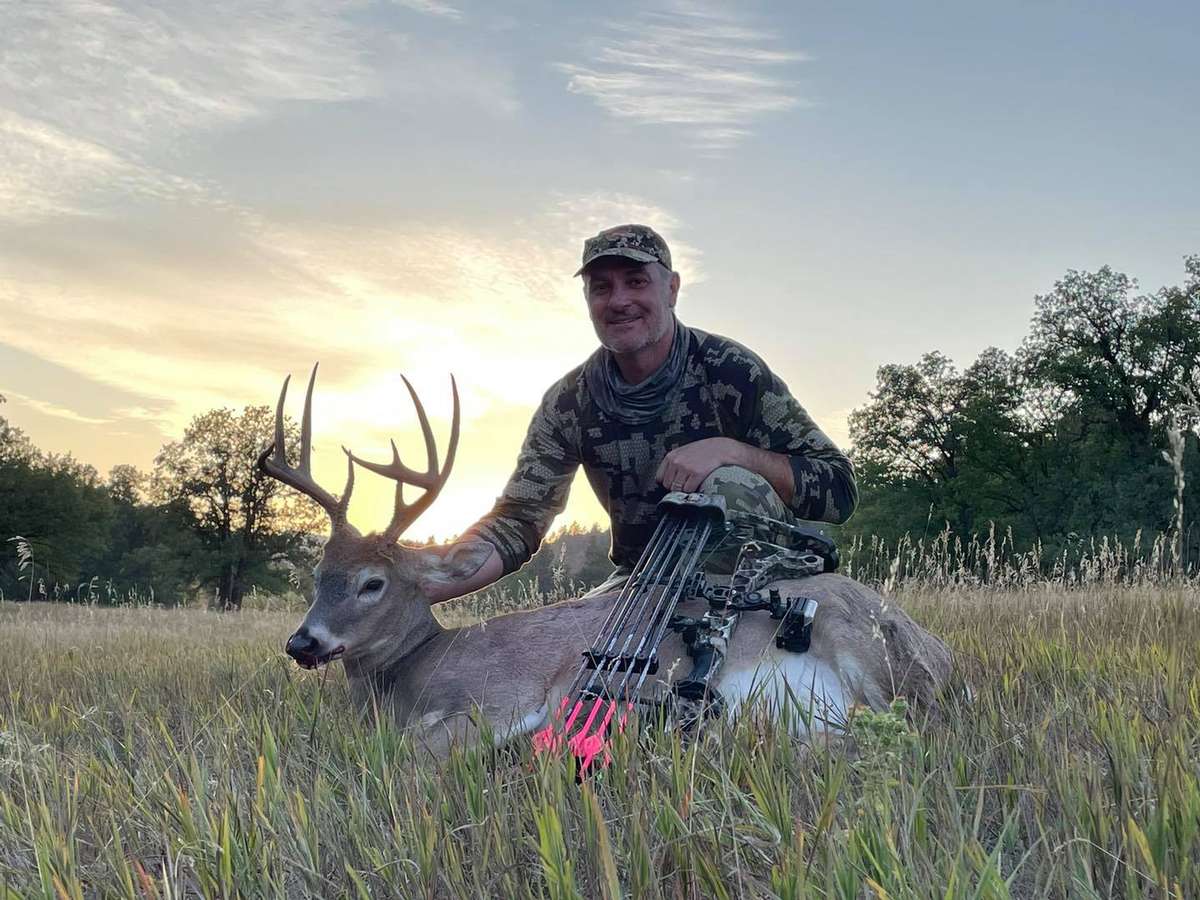 What to Expect Hunting Whitetail in South Dakota
You can expect to arrive the night prior to your first day of hunting to get settled in and have dinner. Transportation is available to and from the airport The next morning your first hunt will begin, you will head out to the field with your guide and one other hunter an hour before daybreak. Expect to hunt for a few hours then head into the lodge mid-day where breakfast will be served and a light lunch just before heading back out for the evening sit. September Hunts will hunt both mornings and evenings whereas in our November hunts you can choose to sit all day.
What is included with the hunt?
Meals
Lodging
Guides
Ground Blinds/Tree Stand
Transportation To/From Fields
Retrieval of Animal
Tracking Dog
Field Dressing of Animal
What to bring?
Tags
Guns/Shells
Bow/Arrows
Have a Taxidermist Lined up
Hunting Clothes - pack layers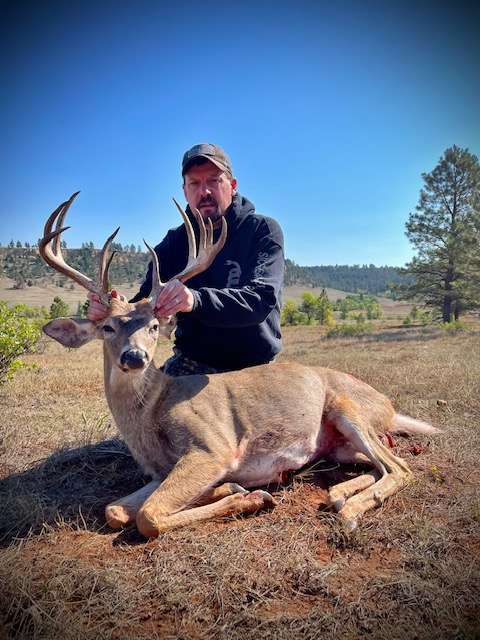 South Dakota Whitetail Hunting Season
Now Booking for the 2023/2024 Season
Archery Whitetail
$3,500
2X1 (Hunter to guide)
October 15 though the end of November
Hunt out of a ground blind or a tree stand
Archery Rut: Hunt Exclusive Archery Only Properties
$3975
2X1 (Hunter to guide)
November 18 through the first week of December
Hunt out of a Ground Blind or a Tree Stand
Late Season Hunts
$2,995
2X1 (Hunter to guide)
After December 1st
Non Hunting Guest
$150 Per Night
Includes Meals
A 50% deposit is due at the time of the booking to secure the dates and the remainder is due 30 days prior to the hunt.
If you so choose to have a 1x1 hunt there will be an additional cost of $1,000.
Applying for a South Dakota Whitetail Hunting Tag
How to Apply for a Whitetail Tag in South Dakota?
According to the South Dakota Game, Fish, and Parks starting in 2023, all applications for Licenses must be submitted online prior to April 1, which we will assist in any application if need be. The tags are guaranteed but need to be applied for by April 1, in order to run on both private and public land. Any application submitted after April 1 will still be able to hunt, you will just be limited to public land which is mainly what we hunt at Devils Tower Outfitters.